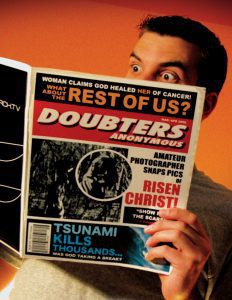 Have you ever struggled with serious doubts about God? If so, you're not alone because nearly everyone has on some level. 
The good news is that God can work in your life despite your doubts, and in many of the stories in the Bible we see God doing just that. We believe God gave us those stories from yesterday because He wants to inspire hope in us today. 
If you struggle with doubt but yearn for hope and purpose in life, we invite you to join us for the next few Tuesday evenings for some food, fellowship and a relaxed discussion. Snacks and drinks will be provided – everyone is welcomed! 
Meetings are being hosted in both Collinsville and Bethalto. To get more information, check our Facebook event calendar for the meeting you'd like to attend (either Collinsville or Bethalto) or email admin@crossingscollinsville.com with your question. You're also welcomed to call our office at (636)442-2778. We look forward to meeting you!