Diverse, Nondenominational Church for the Metro East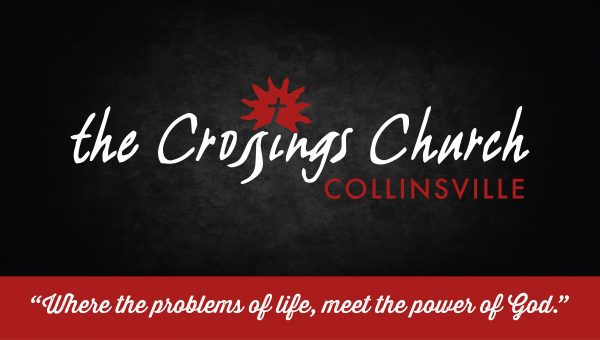 Local Christian church for Collinsville, Belleville, Maryville, Edwardsville and the surrounding areas.
Thank you for visiting the home on the web for The Crossings Church Collinsville. We are a diverse, non-denominational church in Collinsville, IL, and we would love to meet you!
The Crossings Church Collinsville is a church that believes the best life possible is wrapped up in a relationship with Jesus and God's people. We believe that God loves us just the way we are, but He loves us too much to leave us the way we are. We believe that through involvement in the local church and meaningful relationships with other people who are doing their best to follow Jesus, God will do a work in our lives to help us become the people He created us to be. That's the recipe for a great life and also a life that God can use to make our messed up world a little bit better.
Sunday Morning Church Services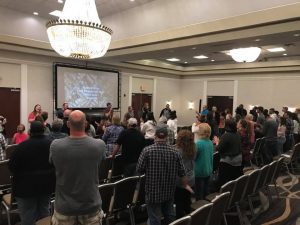 We would love for you to join us for church this Sunday morning! We're currently meeting for church at 10am every Sunday inside the old Petite 4 Cinema in Collinsville at 2002 Mall Street, Collinsville, IL (get directions here).
On Sunday mornings we'd like you and your family to be comfortable. You don't have to worry about dressing up in your "Sunday best" clothing to come to church – simply come as you are wearing whatever you're comfortable in. Hot coffee and tea will be available in the back, and you can expect to encounter lots of friendly people!
During church service we sing contemporary worship songs together led by a praise team. Worship at The Crossings can be described as energetic and lively! We also have a Bible lesson presented each week in a relevant way and focused on everyday life application.
Our motto at The Crossings is "Where the Problems of Life Meet the Power of God" because we believe God provides all the answers to any problems we may face in life, and our approach to Bible teaching reflects that belief.
Everyone is welcomed!
More information is available on this website for those interested in attending one of our Collinsville, IL church services including What to Expect and What We Believe. If you have a question about something specific, please contact us and we will help you as best we can.
Church Ministries for Children, Teens, and College Students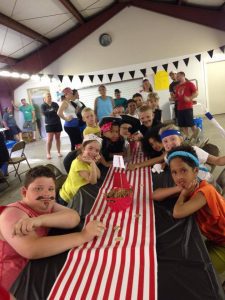 The Crossings Church Collinsville was planted in 2017 in order to be a church home for people in Collinsville, Belleville, O'Fallon, Maryville, Edwardsville, Bethalto, Granite City and the surrounding areas in Illinois.
We offer ministries for every stage of life including Children, Teens, College Students and Adults.
Our church is very active! The Crossings Church Collinsville always has something fun going on, be it special trips, summer camps in the summertime, parties and community events throughout the year, or regular weekly get-togethers and fun events for youth and children our calendar stays full because our people love being together.
To stay up-to-date on the latest happenings with The Crossings Church Collinsville or to see photos from our past events, follow us on Facebook, Twitter, Instagram or YouTube and we'll keep you in the loop!
Counseling & Support Groups for Victims of Trauma & Abuse
The motto for The Crossings Church Collinsville is "Where the Problems of Life Meet the Power of God." When you are with members from The Crossings, you are with people who have been through a lot in life.
Our church members have a reputation for being open about their issues because we strive to create an environment of transparency and openness in our church.
Our church currently offers peer-to-peer support groups through our Healing is a Choice class for individuals interested in learning how to apply biblical wisdom to hurts from their past and through Wounded Heart – a group for individuals seeking to heal from trauma stemming from childhood sexual abuse. If we can help you in any way, please contact us at help@crossingscollinsville.com and we will connect you with a group leader.
Bible Study
Are you just investigating the Christian faith? Do you have questions about the Bible, or perhaps trouble believing the information provided by the Bible can be trusted? Do you have questions about God and Jesus you'd like to find answers to? If you can answer 'yes' to any of those questions, The Crossings is a great church for you to check out!
Many of our church members – including our preacher – were skeptics or even hostile towards faith at one time or another in life.
A wise man once said, "Truth, if it is really truth, is never afraid of questions. Because truth, if it is really truth, can stand up to the hardest ones." We believe that is 100% correct at The Crossings, and operate from the stance that questions are never a bad thing.
We believe God gave us mind so that we would use it, and if you have questions we welcome them, would love to connect with you, and would love to share some of what we believe are answers with you.
Feel free to contact us as inquire about having a Bible study. You may also be interested in checking out our church blog.
The Crossings Church Collinsville at 2002 Mall Street, Collinsville, IL